Ontario County Chapter of ABATE of NY, Inc.
What is ABATE?
ABATE is the neutral and common ground that alows every rider, no matter what you ride, to stand beside and support each other in unity, and to safeguard their rights as individuals with different views: a concept that all riders are united with common interests and with a ground on which to stand.
It is our belief that the majority of anti-biker laws are enacted because of ignorance. This is done, in part, to a lack of representation from motorcyclists themselves. ABATE of New York works closely throughout the state and country in order to ensure that factual information and motorcyclist's views are presented to all legislators.
Join Ontario County ABATE Today!
Want to know more?
Come join us at our next meeting or event. All are welcome and open to the public. You do not need to ride to take part.
Our Next Meetings:
- Sunday February 7th. @ 10:00 AM
Jose & Willy's, 20 Lakeshore Drive,
Canandaigua, NY 14424
Bring a friend to the next meeting.
Future Meeting Dates.
-Sunday March 6th. 2016
-Sunday April 3rd. 2016
For a complete list of future meeting dates, see our events page.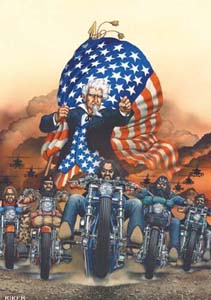 Upcoming Events
First month of 2016 is about over. With new people in place we want to invite you to the "Cabin Fever" party on the 27th. of February at Jose' & Willy's in Cdga. See the "Events" page for more information. It would be nice to see some new faces. Swap Meet is in March. Look on the Events page for the flier and Vendors Application. In the Newsletter is a description of the backbone of proposed Creto's/Kade's law. Something I believe we should all get behind.
To Contact Us:
American Bikers Aimed Toward Education
Ontario County Chapter, PO Box 546, Canandaigua, NY 14424
Please check back frequently for updates. (Last updated: January 30, 2016)
Our Members ride or are interested in, all brands and types of motorcycles. You do not have to ride to be a member! Interested in becoming a member
Click Here
for a printable membership form, Or join us at any of our meetings or events.